Long-term care insurance offers services and support for those who require daily help or have chronic medical issues, disabilities, or cognitive impairments. 
Certain conditions might disqualify you from long-term care insurance. 
This article will clarify these issues and provide long-term care planning alternatives and advice.
Understanding Long-Term Care Insurance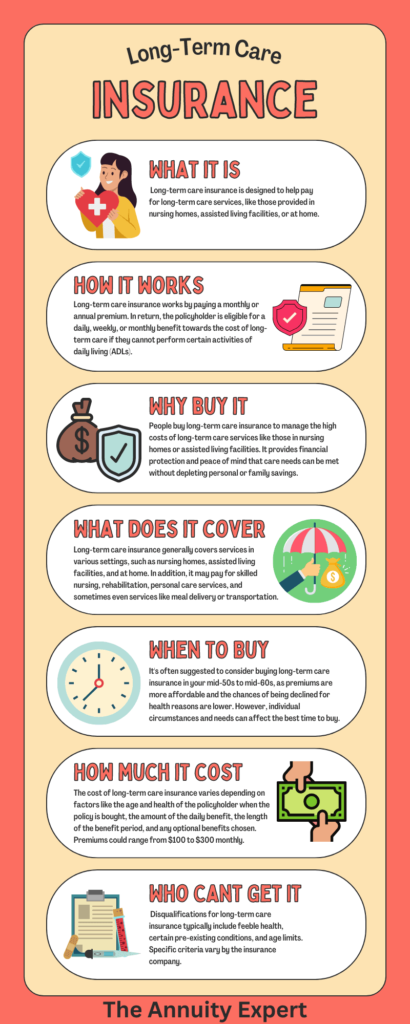 Long-term care insurance offers a financial solution for expenses not covered by standard health insurance or Medicare. These expenditures include personal care, home health care, assisted living, nursing homes, adult daycare facilities, and hospice care.
This type of insurance operates through regular premium payments to the insurer, in return for benefits that offset a portion of long-term care service costs up to the policy's coverage limits. Benefits typically come in daily or monthly amounts usable for any long-term care service. However, these benefits come into effect only after an elimination period, which is a set number of days where you bear the cost of your care before the insurance begins to pay.
Age, health, gender, marital status, geography, and policy characteristics affect long-term care insurance costs. In general, terms, purchasing a policy at a younger age and in good health results in lower premiums. Yet, premiums may rise over time due to inflation or shifts in the insurer's financial status.
Long-term care insurance may not be suited for everyone, but it provides financial protection and peace of mind for future care requirements. You may be unable or unable to afford coverage due to certain reasons.
Factors That Can Disqualify You
Underwriting factors decide whether insurance companies cover you for long-term care. Long-term care insurance underwriting standards vary by company and policy, but these reasons might exclude you:
Pre-Existing Health Conditions: If you have Alzheimer's, Parkinson's, multiple sclerosis, cancer, renal failure, or HIV/AIDS, you may be refused coverage or benefits.
Age Restrictions: Long-term care insurance has age limitations, usually 80 or 85. If you're beyond the company's age limit, you may not be covered.
Disabilities and Impairments: You may not get long-term care insurance if you need help with two or more daily tasks like eating or dressing, or if you have severe problems with moving or thinking.
Cognitive Decline: Memory loss, disorientation, and poor judgment may exclude you from long-term care insurance or need extra testing.
Terminal Illness: If you have a terminal illness with a life expectancy of less than 12 months, you may not be eligible for long-term care insurance.
Waiting Periods and Pre-Existing Conditions: Certain policies impose waiting periods on pre-existing health conditions. This stipulates that if you possess a medical condition preceding your policy purchase or within a certain span post-purchase (typically six months to two years), the benefits related to that condition might be unattainable until a specified duration (generally six months to five years) post policy acquisition.
Substance Abuse and Mental Health Disorders: Alcoholism, drug addiction, depression, and schizophrenia may exclude you from long-term care insurance or raise your rates or benefits.
Declining Health: After buying insurance, if your health worsens, you may not be able to renew or raise your coverage.
Criminal Record: Long-term care insurance may be denied or costlier if you have a criminal record, particularly for violent or fraudulent activities.
Alternative Solutions for Long-Term Care
You may have other ways to pay for your long-term care if you can't get or afford long-term care insurance. Here are some other options:
1. Medicaid
Medicaid covers low-income people and families. Medicaid covers certain long-term care services for eligible adults who fulfill income, asset, and care criteria. To qualify for Medicaid, you may have to spend down your assets or income. Your estate may also have to pay for the portion of your care.
2. Medicare
Medicare covers seniors, the handicapped, and persons with specific conditions. If you fulfill certain conditions, Medicare may fund short-term skilled nursing or home health care. Medicare does not cover custodial care, the most frequent long-term care service. Medicare contains coverage restrictions, co-payments, and deductibles.
3. Veterans Benefits
Veterans and surviving spouses may qualify for VA long-term care benefits. Home and community-based services, residential care, nursing homes, and hospice care are examples. These benefits need service-related disabilities, income and asset restrictions, and service availability. Your circumstances may need co-payments or sharing care expenses.
4. Personal Savings and Investments
You may pay for long-term care using your savings and assets. This might increase your service and provider options. This strategy is hazardous and expensive since you may not have enough money or unforeseen charges. You might exhaust your funds and jeopardize your legacy.
5. Family and Friends
Family and friends may help with long-term care financially or informally. This saves money and keeps connections. This alternative may require your carers to sacrifice their time, money, health, and well-being, which may be difficult. Family and friends may differ from your care choices or expectations.
6. Reverse Mortgage
Reverse mortgages let you borrow against the equity in your property. The loan might cover long-term care or other expenditures. Until you die, sell the house, or move out, the debt is not due. Reverse mortgages limit home equity and public benefits eligibility. Maintain the residence and pay loan fees and interest.
7. Life Insurance
Some life insurance plans include long-term care choices. These include life settlements, viatical settlements, accelerated death benefits, and hybrid policies, which combine life insurance with long-term care insurance. These alternatives may include taxes, fees, and eligibility. They may lower your death benefit or harm your beneficiaries.
8. Annuities
Annuities give regular income for an initial payment. Some annuities have long-term care riders. These let you use some of your annuity value for long-term care services without penalties; give you more money if you need long-term care; or pay you for life starting later. But these options may have fees, taxes, and rules. They may also reduce your annuity value or affect your heirs.
Tips for Qualifying for Long-Term Care Insurance
These ideas can help you qualify for long-term care insurance and receive the best rates:
Apply early: You can get long-term care insurance easier and cheaper when you are young and healthy. Most buyers are around 60, but you may think about buying a policy in your 50s or 40s if you have the money.
Shop around: Different insurance companies have different underwriting criteria, prices, and policy features. You may want to compare several quotes from different companies and agents to find the best deal for your needs and budget. Online calculators help assess expenses and advantages.
Choose your policy wisely: Choose your policy's benefits, elimination period, inflation protection, and riders. Balance your present and future demands with your budget and preferences. Financial planners and insurance agents can assist you decide.
Maintain your health: Your health matters a lot for long-term care insurance. Eating correctly, exercising, avoiding smoking or drinking, lowering stress, and visiting your doctor often may help you stay healthy. You may also fix any health issues or signs quickly and do what your doctor says.
Review your policy periodically: You may need to evaluate and revise your insurance if your long-term care requirements and finances change. You should also keep an eye on your insurance company's performance and industry developments that may influence your coverage.