Generic antidepressants typically cost around $62.50 for a 30-tablet supply, whereas brand-name antidepressants average around $487.75. Insurance coverage can lead to significantly reduced prices, though the actual amount may differ based on factors like medication type, dosage, and location.
Depression is a common mental health condition that affects millions of people worldwide. 
It can cause persistent feelings of sadness, hopelessness, and loss of interest in daily activities. Depression can also interfere with your work, relationships, and hobbies. 
Fortunately, there are effective treatments for depression, such as antidepressants, therapy, and lifestyle changes. 
However, these treatments can also be costly, especially if you don't have insurance or your plan does not cover them. 
In this article, we will explore how much antidepressants cost without insurance and other costs of depression.
Cost of Antidepressants Without Insurance (Brand Name)
| Brand Name | Brand Name Price |
| --- | --- |
| Celexa | $370 |
| Lexapro | $456 |
| Prozac | $624 |
| Paxil | $261.08 |
| Zoloft | $411 |
| Cymbalta | $322.24 |
| Effexor | $518.78 |
| Pristiq | $509 |
| Elavil | $15 |
| Pamelor | $1,392.00 |
Cost of Antidepressants Without Insurance (Generic Version)
| Generic | Generic Price |
| --- | --- |
| Citalopram | $16 |
| Escitalopram | $67.43 |
| Fluoxetine | $21 |
| Paroxetine | $24.06 |
| Sertraline | $28.54 |
| Duloxetine | $126 |
| Venlafaxine | $38 |
| Desvenlafaxine | $277.36 |
| Amitriptyline | $11.22 |
| Nortriptyline | $14.82 |
Are there any programs or discounts to help with the cost of antidepressants without insurance?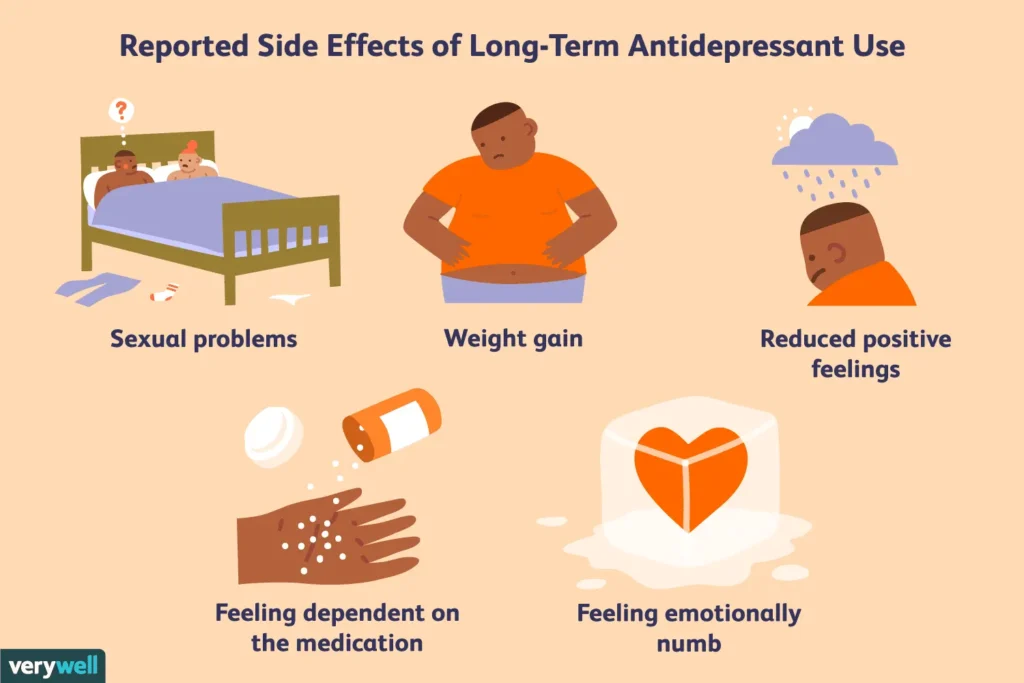 If you need antidepressants but don't have insurance or your plan does not cover them, you may be wondering how to afford them. The good news is that there are some programs and discounts that can help you lower the cost of your medication. Some of these include:
Generic drugs: Generic drugs are versions of brand-name drugs that have the same active ingredients, dosage, safety, and effectiveness. They are usually cheaper than brand-name drugs because they do not have the same research and development costs. For example, the generic version of Lexapro (escitalopram) costs $67.43 for 30 tablets without insurance, while the brand-name version costs $455.70. You can ask your doctor or pharmacist if there is a generic option for your antidepressant.
Coupons and savings cards: Coupons and savings cards are discounts that you can apply to your prescription at the pharmacy. They are often offered by drug manufacturers, pharmacies, or third-party websites. For example, Mira's prescription portal can help you locate pharmacies to get antidepressants for the lowest cost near you. In addition, Mira offers coupon codes that can be used to get your medication at a discounted price, of up to 80% less. You can also check RxSaver for coupons and savings cards for various antidepressants.
Patient assistance programs: Patient assistance programs are programs that provide free or low-cost drugs to eligible patients who cannot afford them. They are usually sponsored by drug manufacturers, nonprofit organizations, or state or federal agencies. You can search for patient assistance programs for your antidepressant on websites such as NeedyMeds or RxAssist.
Mail-order pharmacies: Mail-order pharmacies are online services that deliver your prescription drugs to your home or office. They may offer lower prices than retail pharmacies because they have lower overhead costs and can buy drugs in bulk. You can compare prices and order your antidepressant from mail-order pharmacies such as Blink Health or Honeybee Health.
Can you get free or low-cost antidepressants from a clinic or a doctor without insurance?
Another way to get free or low-cost antidepressants without insurance is to visit a clinic or a doctor that offers sliding-scale fees or charitable care. Sliding-scale fees are fees that are based on your income and ability to pay. Charitable care is care that is provided for free or at a reduced cost to patients who meet certain criteria. Some examples of clinics or doctors that may offer sliding-scale fees or charitable care include:
Community health centers
Federally qualified health centers
Free clinics
Low-cost clinics
What are the other costs of depression besides medication, such as therapy, hospitalization, or lost productivity?
Antidepressants are not the only cost of depression. Depression can also incur other direct and indirect costs, such as therapy, hospitalization, or lost productivity. 
According to a 2019 article in the American Journal of Managed Care, individuals with depression spent a total of $8,662 to $16,375 annually to cover the direct and indirect costs of depression. 
The amount of money spent varied depending on the depression severity. Some of these costs include:
Therapy
Therapy is a form of treatment that involves talking to a mental health professional about your thoughts, feelings, and behaviors. Therapy can help you cope with your depression, identify and change negative patterns, and develop new skills and strategies. However, therapy can also be expensive, especially if you don't have insurance or your plan does not cover it. The average cost of therapy without insurance ranges from $65 to $250 per session, depending on the therapist's qualifications, location, and specialty. You may be able to find affordable therapy options through online platforms such as BetterHelp or Talkspace, or through sliding-scale fees or charitable care offered by some therapists or clinics.
Hospitalization
Stays in hospitals or psychiatric facilities form part of treatment methods. For individuals battling severe depression, presenting a risk to self or others, or requiring meticulous care and monitoring, this becomes a necessity. Despite its benefits, this method can prove to be financially burdensome, particularly for those without insurance coverage or those whose insurance plans don't cover such costs. Hospitalization costs, on average, range from $5,000 to $15,000 per day, influenced by factors such as facility type, care level, and duration of stay. Potential avenues for cost mitigation may include applying for financial aid programs provided by certain hospitals or arranging a payment plan with the billing department.
Lost productivity
Productivity loss reflects income or output reduction due to depressed work performance or absence attributed to depression. Depression potentially disrupts your concentration, decision-making capabilities, communication, and task completion. Additionally, it may cause an increase in days absent from work due to illness, appointments, or motivational deficiency.
A study in the Journal of Occupational and Environmental Medicine from 2019 revealed that individuals with depression had an average annual productivity loss of $4,426, credited to depressed work productivity and absence.
Productivity and attendance can potentially be improved through depression treatment, seeking reasonable workplace accommodations, and incorporating self-care strategies such as exercise, ample sleep, and relaxation techniques.
How much do different types of antidepressants cost without insurance, such as SSRIs, SNRIs, or MAOIs?
Antidepressants serve to manage depression and various mental health disorders. They modify the quantity of specific brain chemicals known as neurotransmitters that control mood and feelings. The categories of antidepressants differ, each having unique methods of operation and side effects. Common antidepressants include:
SSRIs (selective serotonin reuptake inhibitors)
These antidepressants elevate the quantity of serotonin in the brain by preventing its reabsorption into nerve cells. Serotonin has a role in mood balance, sleep, hunger, and pain sensation. Due to their effectiveness, tolerance, and minimal drug interactions, SSRIs often become the primary choice of antidepressants. Examples are citalopram (Celexa), escitalopram (Lexapro), fluoxetine (Prozac), paroxetine (Paxil), and sertraline (Zoloft). The average cost of SSRIs without insurance varies between $4 to $29 for generic versions and $261 to $624 for brand-name versions per month.
SNRIs (serotonin-norepinephrine reuptake inhibitors)
SNRIs enhance the quantity of serotonin and norepinephrine in the brain by inhibiting their reabsorption into nerve cells. Norepinephrine affects mood balance, alertness, attention, and stress response. SNRIs are generally recommended for patients unresponsive to SSRIs or those with other symptoms like chronic pain or anxiety. Examples include duloxetine (Cymbalta), venlafaxine (Effexor), and desvenlafaxine (Pristiq). The average cost of SNRIs without insurance ranges from $38 to $278 for generic versions and $322 to $518 for brand-name versions per month.
MAOIs (monoamine oxidase inhibitors)
MAOIs inhibit the activity of an enzyme named monoamine oxidase, which degrades serotonin, norepinephrine, and dopamine in the brain. By hindering the degradation of these neurotransmitters, MAOIs boost their quantities and magnify their effects. Typically, MAOIs are reserved for patients unresponsive to other antidepressants or those with atypical depression. Examples are phenelzine (Nardil), tranylcypromine (Parnate), and selegiline (Emsam). The average cost of MAOIs without insurance ranges from $11 to $1,392 for generic versions and $15 to $1,392 for brand-name versions per month.
MAOIs can yield severe side effects and react with specific foods and medications, leading to high blood pressure, headache, nausea, or even stroke. Consequently, patients on MAOIs must adhere to a rigid diet, avoiding tyramine-containing foods like cheese, wine, beer, cured meats, soy sauce, and sauerkraut.
How much do antidepressants impact your relationships, work, or hobbies without insurance?
Antidepressants can have a positive impact on your relationships, work, or hobbies without insurance by improving your mood, energy, motivation, and interest in life. Antidepressants can help you feel more connected to your loved ones, more productive at your job, and more engaged in your hobbies. 
Antidepressants can also reduce the symptoms of depression that may interfere with your social functioning, such as irritability, anxiety, guilt, or low self-esteem. However, antidepressants can also have some negative impacts on your relationships, work, or hobbies without insurance by causing side effects that may affect your physical or mental health. Some of these side effects include:
Sexual dysfunction
Weight gain
Emotional blunting
How much do antidepressants change your personality, mood, or behavior without insurance?
Antidepressants can change your personality, mood, or behavior without insurance by altering the levels of neurotransmitters in your brain that influence these aspects of yourself. 
Antidepressants can have both positive and negative effects on your personality, mood, or behavior without insurance. Some of these effects include:
Improved mood
Reduced anxiety
Increased impulsivity
Decreased empathy