No, health insurance does not usually cover DOT physicals. DOT physicals are medical exams that are required for commercial drivers by the Federal Motor Carrier Safety Administration (FMCSA). 
They are designed to ensure that drivers are physically and mentally fit to operate commercial vehicles safely. 
However, most health insurance plans do not consider DOT physicals as preventive care or routine checkups and therefore do not cover them. 
There are some exceptions, depending on your employer and your state regulations, but in general, you will have to pay for your DOT physical out of pocket.
Understanding DOT Physical
What is a DOT Physical?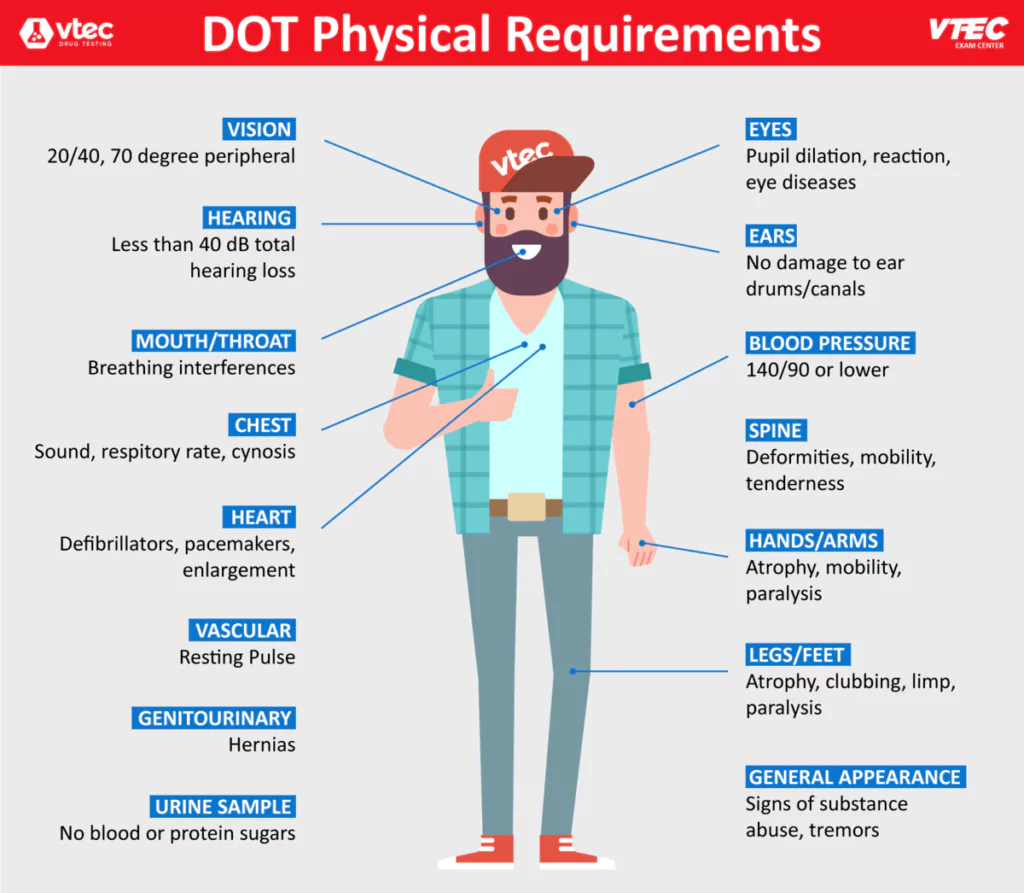 A DOT physical is a health examination that is required for commercial drivers every 24 months or less, depending on their medical conditions. The exam is conducted by a licensed medical examiner who is listed on the FMCSA National Registry. The purpose of the exam is to make sure that drivers do not have any health issues that could impair their ability to drive safely, such as high blood pressure, diabetes, heart disease, vision problems, hearing loss, or substance abuse.
Who needs to get a DOT Physical?
DOT physicals are necessary for CMV drivers who:
Transport hazardous items that need hazmat placards.
Get paid to drive cars with more than eight persons
Drive cars over 15 persons
Drive vehicles above 10,000 pounds gross combined weight.
What is Involved in the Exam?
The DOT physical consists of two parts: a health history form and a physical examination. The health history form asks questions about your medical history, medications, surgeries, alcohol, tobacco, and other substances. You can fill out this form ahead of time and bring it with you to the exam. The physical examination tests your:
Hearing
Vision
Blood pressure
Pulse rate
Urine sample (for blood sugar level and drug testing)
Other health indicators
The medical examiner will also check for any signs of physical or mental impairment, such as neurological disorders, respiratory problems, musculoskeletal issues, or psychological disorders. The medical examiner will then determine if you are medically qualified to drive a CMV and issue you a medical certificate that is valid for up to 24 months. You will need to carry this certificate with you whenever you drive a CMV.
Insurance Coverage for DOT Physicals
Generally Not Covered by Insurance
Most health insurance plans do not cover DOT physicals because they are not considered as preventive care or routine checkups. They are also not required by law for all drivers, only for those who operate CMVs. Therefore, most health insurance companies view DOT physicals as occupational exams that are the responsibility of the employer or the employee.
Exceptions for Certain Employers
Some employers may offer to pay for or reimburse their employees for their DOT physicals as part of their benefits package. This may depend on the type of industry, the size of the company, the bargaining power of the employees, or the state regulations. For example, some states require employers to cover the cost of DOT physicals for school bus drivers or public transit drivers. If you work for an employer who offers this benefit, you should check with your human resources department or your supervisor about how to access it.
Costs and Payment Options
How Much Does a DOT Physical Cost?
The cost of a DOT physical can vary depending on where you get it done and what services are included. According to some estimates, the average cost of a DOT physical ranges from $50 to $150. Some factors that can affect the price are:
The location of the clinic or office
The availability of the medical examiner
The demand for the service
The complexity of the exam
The additional tests or procedures that may be required
Options for Payment if you do not have Insurance
If you do not have insurance coverage for your DOT physical, you will have to pay for it out of pocket. However, there may be some ways to reduce your expenses or find affordable options. Here are some tips:
Compare local pricing from various companies. Find local certified medical examiners and compare rates and ratings on DOTPhysicalDoctors.com or TeamCME.com.
Ask for discounts or coupons from the provider. Some clinics or offices may offer discounts for cash payments, repeat customers, referrals, or group rates.
Use an FSA or HSA if you have one. You may save for eligible medical costs in these tax-advantaged accounts. If your doctor prescribes or provides a medical necessity letter, you may utilize FSA or HSA money for your DOT physical.
Seek assistance from your employer or a professional association. Some employers or associations may offer subsidies, grants, or loans for their employees or members who need to get DOT physicals. You should check with your employer or association if they have such programs and how to apply for them.